INTRODUCTION
The deformation of a prestressed concrete member throughout the full range of loading depends on the properties and behaviour of the constituent materials. In order to satisfy the design objective of adequate structural
strength, the ultimate strengths of both concrete and steel need to be known. In addition, factors affecting material strength and the non-linear behaviour of each material in the overload range must be considered. In order to
check for serviceability, the instantaneous and time-dependent properties of concrete and steel at typical in-service stress levels are required. As was mentioned in Chapter 1, the prestressing force in a prestressed concrete member gradually decreases with time. This loss of prestress, which is usually 10%–25% of the initial value, is mainly caused by creep and shrinkage strains that develop with time in the concrete at the level of the bonded steel, as well as relaxation of the tendons. Reasonable estimates of the creep and shrinkage characteristics of concrete and procedures for the time analysis of prestressed structures are essential for an accurate prediction and a clear understanding of in-service behaviour. The loss of prestress caused by relaxation of the prestressing steel is caused by creep in the tendon. With the relatively low relaxation of modern prestressing steels, however, this component of prestress loss is usually relatively small (less than 5%).
CONCRETE
Composition of concrete
Concrete is a mixture of cement, water and aggregates. It may also contain one or more chemical admixtures. Within hours of mixing and placing, concrete sets and begins to develop strength and stiffness as a result of chemical reactions between the cement and the water. These reactions are known as hydration. Calcium silicates in the cement react with water to produce calcium silicate hydrate and calcium hydroxide. The resultant alkalinity of the concrete helps to provide corrosion protection for the reinforcement. The relative proportions of cement, water and aggregates may vary considerably depending on the chemical properties of each component and the desired properties of the concrete. A typical mix used for prestressed concrete by weight might be coarse aggregate 45%, fine aggregate 30%, cement 18% and water 7%. Cement is made from silica, alumina, lime and iron oxide, crushed and blended, and then burnt in a rotary kiln. The resulting clinker is cooled, mixed with gypsum and some other cementitious materials and ground to a fine powder. In most countries, several different types of cement are available, including general-purpose cements, high early strength cements, low heat of hydration cements and cements that provide enhanced sulphate resistance. Various cement replacement materials are often used, including silica fume, siliceous fly ash, calcareous fly ash, blast furnace slag, limestone, burnt shale and natural pozzolans. EN 197-1 specifies five groups of cements depending on their composition.
1. CEM I Portland cement (contains mainly ground clinker and up to 5% of minor additional materials);
2. CEM II Portland composite cement (seven types are specified containing ground clinker and up to 35% of another single material);
3. CEM III blast furnace cement (contains ground clinker and 36%– 95% of blast furnace slag);
4. CEM IV pozzolanic cement (comprising ground clinker and a mixture of silica fume, pozzolans and fly ash); and
5. CEM V composite cement (containing clinker and a high percentage of blast furnace slab and pozzolans or fly ash). 
The standard strength of a cement is taken as the compressive strength of mortar specimens cast, cured and tested in accordance with EN 196-1. Six different strength classes of cement are specified in EN 197-1 [3] conforming to the requirements in Table 4.1. Two classes are specified for each of the three strength grades (32.5, 42.5 and 52.5 MPa), one associated with ordinary early strength (denoted by N) and one for high early strength (denoted by R) as indicated in Table 4.1. The ratio of water to cement by weight required to hydrate the cement completely is about 0.25, although larger quantities of water are often required in practice in order to produce a workable mix. For the concrete typically used in prestressed structures, the water-to-cement ratio is about 0.4. It is desirable to use as little water as possible, since water not used in the hydration reaction causes voids in the cement paste that reduce the strength and increase the permeability of the concrete.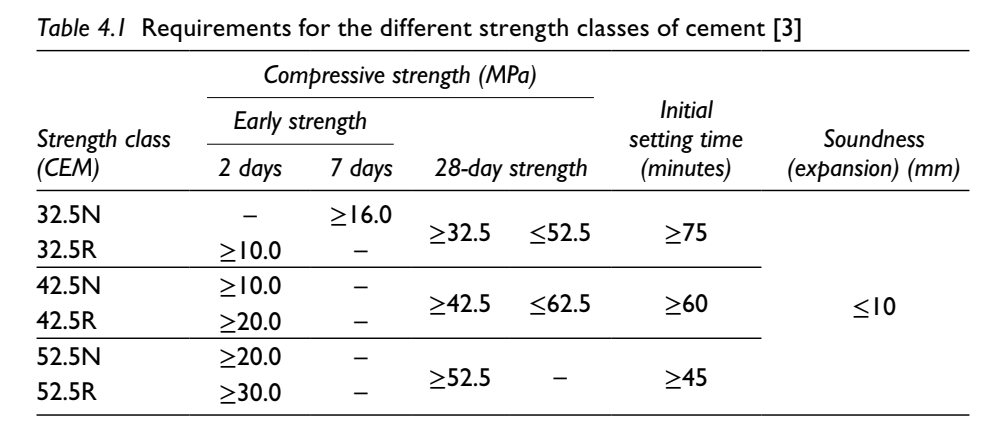 Chemical admixtures are widely used to improve one or more properties of concrete and code requirements are specified in EN 943-2. Highstrength concretes with low water-to-cement ratios are made more workable
by the inclusion of superplasticisers in the mix. These polymers improve the flow of the wet concrete and allow very high-strength and low-permeability concrete to be used with conventional construction techniques. The rock and sand aggregates used in concrete should be inert and properly graded. Expansive and porous aggregates should not be used, and aggregates containing organic matter or other deleterious substances, such as salts or sulphates, should also be avoided.